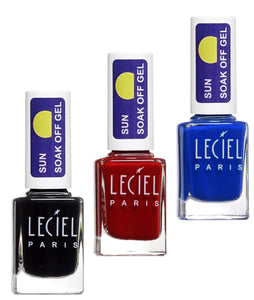 Sun Soak Off Gels
A revolutionary 2-step formula of Soak Off Gels that does not require the use of a UV or LED Lamp! Simply apply on top the special Sun Soak Off Gel Top Coat, which will cure it into a Soak Off Gel with just the exposure to natural light. If the special Top Coat is not applied, it remains a shiny nail polish.
Benefits/characteristics:
Long lasting formula and quick drying time
Exceptional shine
Highly resistant to chipping & abrasion
Can be removed with acetone without the need for soaking
Usage: Apply 2 coats and let dry for 2 minutes and then apply 1 coat of the special Top Coat and let it cure in natural light.
NEVER MISS A THING
Promotions, new products and sales. Directly to your inbox.